Return to Statistical Tools Home Page PLEASE note you must be a registered on CTSpedia to contribute a statistical tool. 1 - Please add a statistical tool using the StatToolsForm
To add a new tool, click on Create a StatToolsTopic### on the Statistical Tools page.

Return to Top
Step 2 - Topic Page with Stat Tools Form
2 - An auto-numbered topic page with the form will open. ADD Title to top of page (Use the same title that you use in the form.)
Do not fill in any other information at the top of the page.
Complete the information under CTSpedia. StatToolsForm.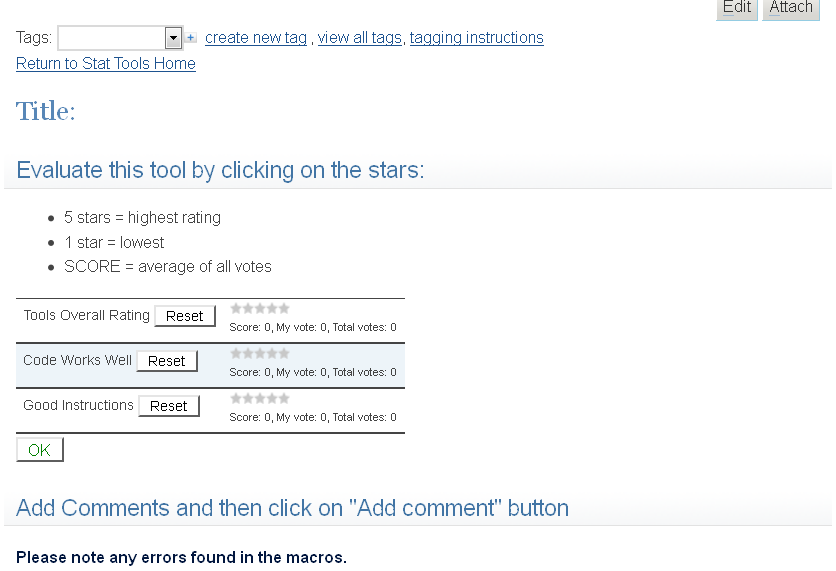 Return to Top
Step 3 - Form Fields
3 -Complete the following fields: (If you hold your cursor on top of the name of the field in the left column, there is a brief description on how to complete the field.)
3A - Top of the Form
Type of Tool: Check the Type of Tool
SAS Utility Macro: If this is a SAS Utility Macro, check the type of Utility Macro.
Title: Give the tool a title.
Programmer/Email: Add the name of the programmer and email (if you wish to be contacted with questions).
Contributing Site: Mark the contributing site.
Description: Briefly describe the tool
Classification-Graph Type: If a graph is created with this tool, mark the type of graph.
References: If there are references for this tool, please list here.
Datasets: Mark dataset used with this tool.
Data: Describe the data that are used with this tool.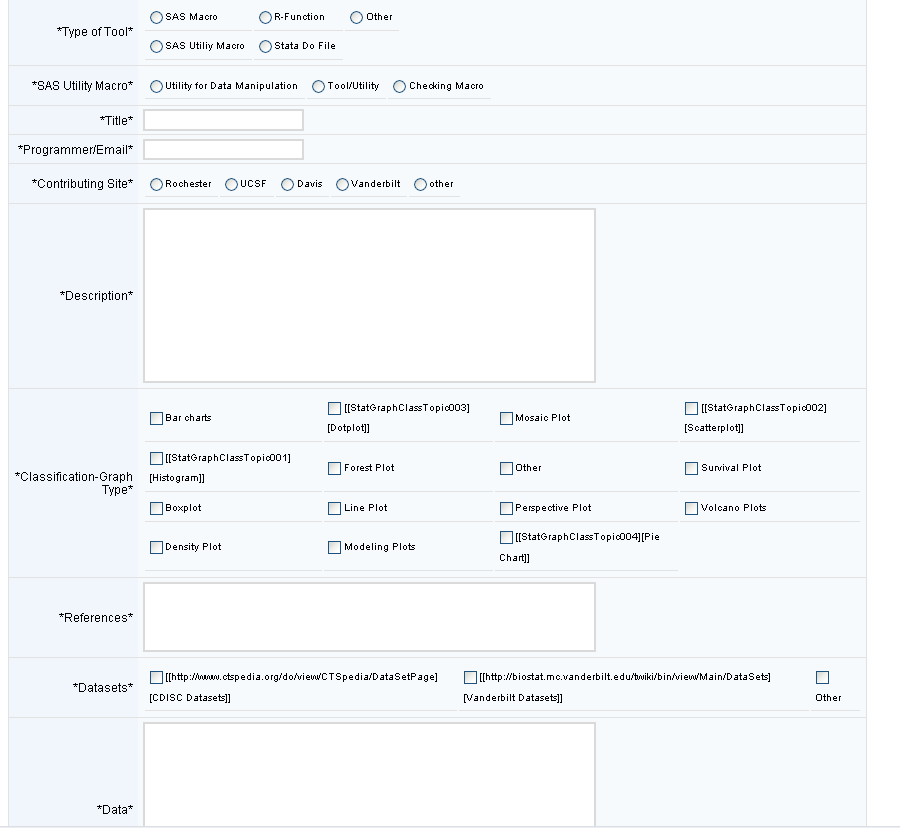 Return to Top
3B - Software Code
3B - For attaching code, see Step4. For adding code, cut and paste from Word or any other document into the box for Code.
Software Program: Check the software program.
Software: Add version number and other information about the software program.
Macro Parameters: Cut and paste macro paramenters.
( )-Code-Attachment: Attach the code for the software program that you are using. (See Step 4 for how to attach the document.)
( )-Code: Cut and paste the code for the software program that you are using.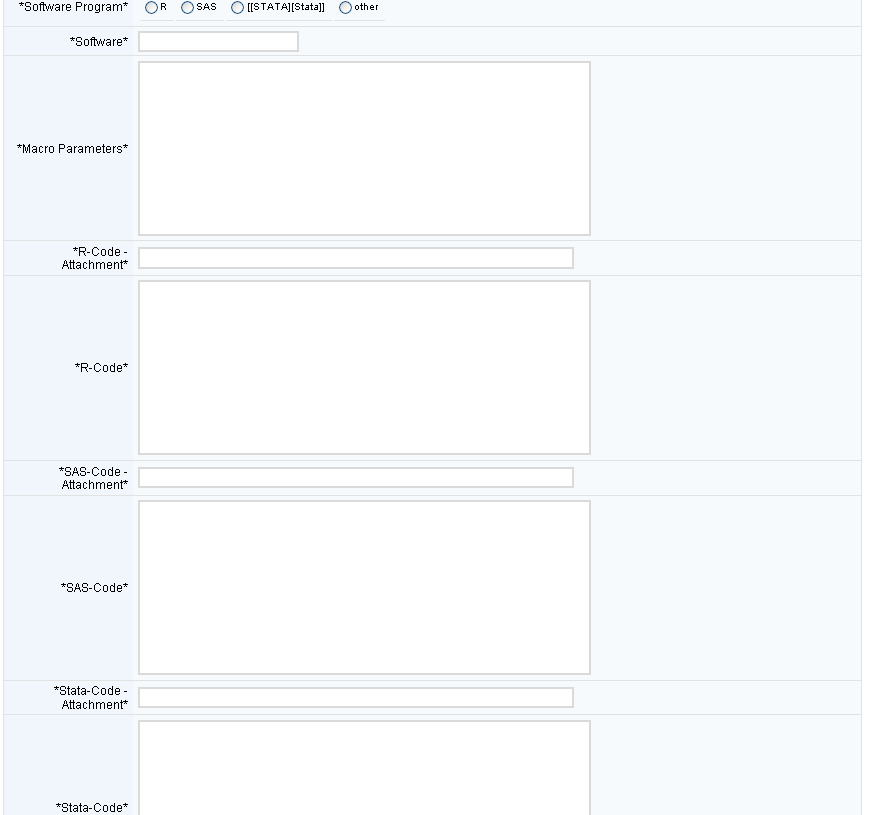 Return to Top
3C - Called Macros
3C -
Called ( ): Check the called program that you are using in your macro.
Called Other: Cut and paste called macros that are not listed above
Creation Date: If this is a new tool, mark creation date
Revision-Date: If this is a revised tool, mark revision date..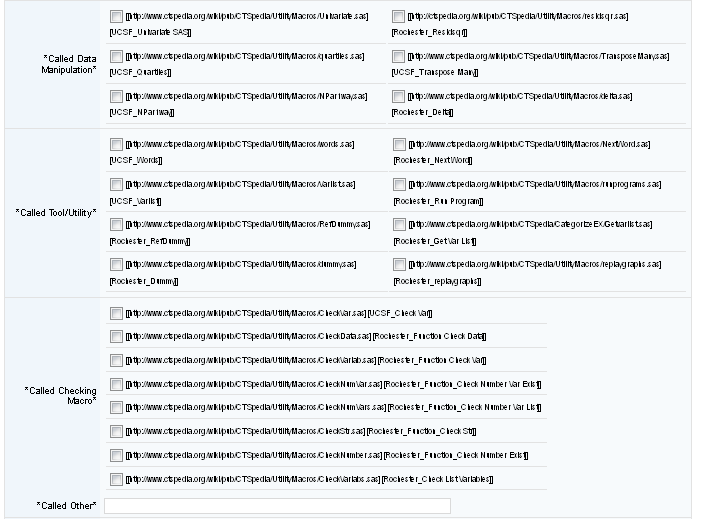 Return to Top
3D - Dates, Examples Code and Examples Output
3D - Please help users by adding as much explanations as possible to your example code files.

Return to Top
3E - Other Macro Features
3E -
Special Features: Attach or copy and paste special features.
Example of Macro Call: Copy and paste an example of a macro call.
Notes: Copy and paste notes.
See Also: Hyperlink or add other information.
Checklists: Hyperlink, attach, or copy and paste any checklists.
Stat Tools Disclaimer: Add a site specific disclaimer.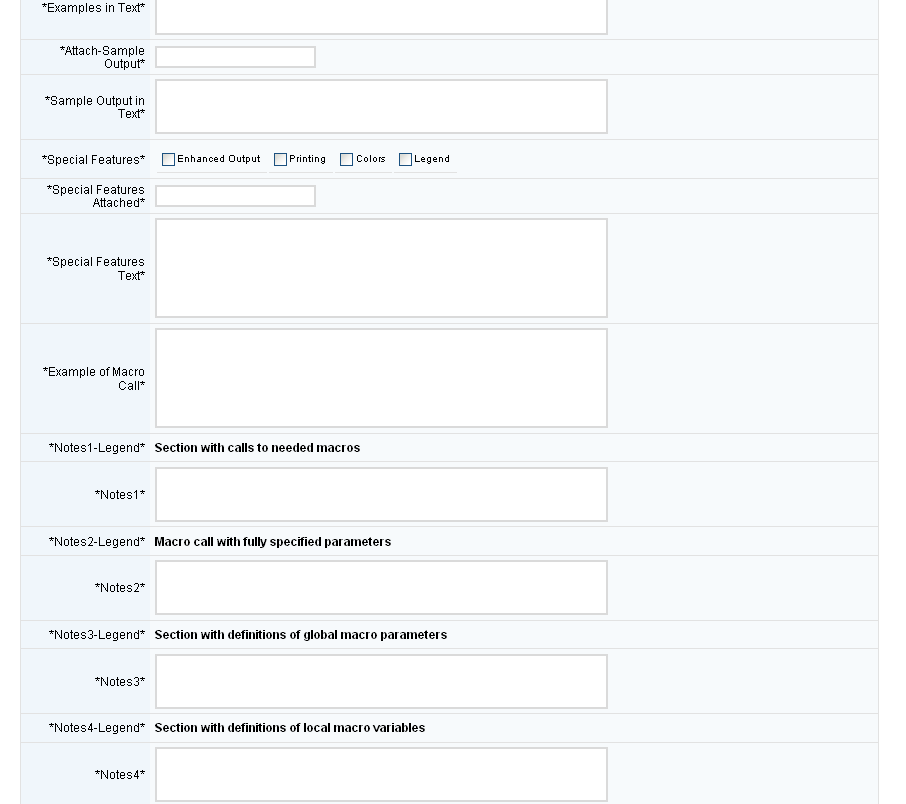 Return to Top
3F - Checklists and Disclaimers and Reference Image
3F - Add any checklists, other disclaimers, and attach any reference images for graphs that were created with this code.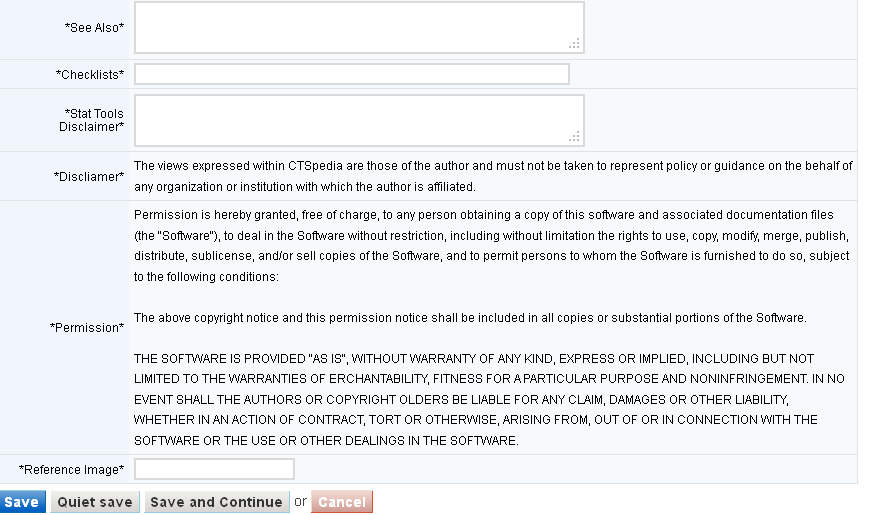 Return to Top
Step 4 - Attachments
The wiki's principle limitations in file sharing are large files: video or files >10,000 kb. All others can be loaded. PLEASE follow these instructions for uploading and linking attachments. Do not check the "Create a link to the attached file" under Properties on the Attach page. If you check this button, it will put a shortened URL or display the attached picture at the top of the page and the attachment will not be included it in your form. We need the file (link) in your form. Return to Top Return to Statistical Tools Home Page
---
---